Introduction of Deer

Formosan Sika deer
 

Characteristics of the species
Formosan Sika deer, plum flower deer, is named for their beautiful white spot coat. The bucks have antlers which comes off once a year, while the doe has no antlers. The Bucks' size is normally larger, and start to grow antlers from the age of two. The antler velvet are usually ready for harvest after 75 days of peeling. The season of harvest is about July to September every year, and the average amount of antler is around 1000 grams. Antlers are dendriticm and the length is about half a meter long. The typical antler has four pointed tips. Formosan Sika deer is smaller then average, and very sensitive. Their oestrus season is around October to December each year, and the delivery season around June to August of the following year, and the chance of having twins are low.

Origin of Breeds
Formosan Sika deer ( Cervus nippon taiouanus ) is ruminant animals, belonging to mammals Artiodactyla ( Artiodactyla ) deer family ( Cervidae ) genus deer ( Cervus ) , which is the unique subspecies in Taiwan. In 31th year of Wanli Emperor (in 1603), the book "Dong Fan Ji" ( The Eastern Barbarians) written by Chen Di in the late Ming Dynasty, recorded a lot of Formosan Sika deer information. In 1623, the Dutch entered to Taiwan, and started indiscriminate hunting. The catch amount reached 120000 deer skin, and caused near extinction of wild Formosan Sika deer. Due to uninterrupted private deer farm industry, though the deer numbers in farm went decreasing due to the less production of deer antler velvet, the government's plan " to reproduce and release deer into wild", prevents genocide so far.


Taiwan Sambar (Formosan Sambar Deer)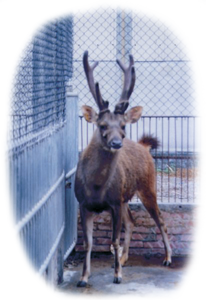 Formosan Sambar Deer

Characteristics of the species
Brown hair color, the abdomen slightly lighter, head and ears are lighter brown color. In summer, the hair color is lighter brown, and the eyes glands will be opened in the angry or excited moment. Two years old of bucks started to grow antler, and can harvest, "cut", their antlers. The cutting number of calculations known as the "Cut"; "cut" once a year, the first cut is the second year after giving birth; later, the amount of antler increased year by year since the first cut. The highest antler production period is around the 8th – 9th cut, after that, the antlers reduced year by year. Doe starts to give birth Fawn since 3 years olds. The body height of buck is about 110 cm, body length is 140 cm, and the body hight of doe is about 95 cm, with 110 cm body length. Sambar deer is a medium-sized deer. Bucks weigh more than 200-250 kg, the doe also can reach to more than 100 kilograms. Taiwan Sambar almost can reproduce all year around, but the delivery date is focused on May to June. One fawn in each fetus, chances of giving birth to twins somewhat low.


Origin of Breeds
Taiwan Sambar ( Rusa unicolor swinhoei ), a ruminant, belonging to mammals Artiodactyla ( Artiodactyla ) deer family ( Cervidae ) sambar genus ( Rusa ), is the particular subspecies in Taiwan. The main habitat is in the mountains of Taiwan woodland. Wild Taiwan Sambar still exist, but the number is minimal. Although there is a large number of sambars keeps in the farm, mostly are mixed with exotic breeds. Purebred captive sambar are rare in existence.


The Outstanding Deer Farm List of 2004

(Source: 2005/01/21 Council of Agriculture http://www.coa.gov.tw/646/1267/1267.html)
 
| | | | | |
| --- | --- | --- | --- | --- |
| Deer Farm | Location | Address | Owner | Telephone |
|   |   |   |   |   |
| Teruo farms | Penghu Hoseo Township | 130 Kosei village Road | Song hui Chiong | (06) 9921-203 |
|   |   |   |   | 0918-576508 |
|   |   |   |   |   |
| Deer world tourist | Changhua County | 63, Do Yuan Road, Erlin | Liao bin Ching | (04) 8904-266 |
| farm |   |   |   | 0928-362250 |
|   |   |   |   |   |
| Jin Ying deer farms | Jiali, Tainan County | 206-10, Changzhou Li | Lin Kun feng | (06) 7233-522 |
|   |   |   |   | 0932-759114 |
|   |   |   |   |   |
| FuChan livestock | Andin, Tainan County | 7- 20, Surin Village | Su Fu cheng | (06) 5924-380 |
| deer farms |   |   |   |   |
|   |   |   |   |   |
| Wild deer farms | Biho,Tainan County | 44 – 1, Kan Do Li, Kan Tsi Do, | Cheng zhao Chin | (05) 2761-676 |
|   |   |   |   | 0935-891307 |
|   |   |   |   |   |
| GSK deer farm | iouying in, Tainan County | 264 – 1 , Guoyi, Shan Non village | Li qing Liang | (06) 6231-113 |
|   |   |   |   | 0932-824340 |
|   |   |   |   |   |
| Bai He deer farms | Kuo Shin, Nantou County | 105, Chung ChengRoad, | Chen Fa hui | 0928-183828 |
|   |   | North village. |   |   |
|   |   |   |   |   |
| Changfu livestock | Sinshe, Taichung County | 36, Yongfeng 15, Fuxing Village | Chen Guangming | (049) 2431-269 |
| deers farms |   |   |   | 0921-784599 |
|   |   |   |   |   |
| Chao Min deer farms | Sinshe, Taichung County | 5, Chung Ho street, sec. 5, | Chang Chao min | (042) 5812-715 |
|   |   | Shin She village. |   |   |
|   |   |   |   |   |
| Akira deer farm | Wuchi, Taichung County | 12, Chung Shi Road, Sec.1 | Chang Qiu liang | (042) 6624-037 |
|   |   |   |   | 0912-627308 |
|   |   |   |   |   |
| Chang Yeh Ranch | Alian, Kaohsiung County | Fu-an Village 8-18 | Yang Hongbwen | (07) 633-3230 |
|   |   |   |   | 0937-328668 |
|   |   |   |   |   |
| Hoping deer farms | Liugui, Kaohsiung County | 251- 11, Hoping Road | Li Jin yue | (07) 679-1378 |
|   |   | Sin Fa village |   |   |
|   |   |   |   |   |
| | | | | |
| Matsumi farms | Meinong, Kaohsiung County | 30, lane, 36, Min Zu Road, East Gate. | Jin-Chiang Chu | (07) 6811-563 |
|   |   |   |   | 0910-886913 |
|   |   |   |   |   |
| YuanShan deer farms | Meinong, Kaohsiung County | 16,Yuan Shan Street, Shenzhen | Liu Ming chan | (07) 6815-958 |
|   |   |   |   | 0956-010181 |
|   |   |   |   |   |
| Chang Jinlong deer farm | Meinong, Kaohsiung County | 9-11, Fuxing, Ji Ho, | Chang Jinlong | (07) 6833-801 |
|   |   |   |   | 0930-032815 |
|   |   |   |   |   |
| JOYFUL deer farms | Meinong, Kaohsiung County | 85, Chaoyuan, Kuan Lin, | Lin Lian Tong | (07) 6814-068 |
|   |   |   |   | 0937-673109 |
|   |   |   |   |   |
| Longhua deer farms | Qishan, Kaohsiung County | 1, Hua Chi Road, Lane 302, | Chen Mong | (07) 6614-426 |
|   |   |   |   |   |
|   |   |   |   |   |
| KangLu farms | Big trees, Kaohsiung County | 54-10, Lombok Road, Lombok Village | Yang Yi yi | (07) 633-3230 |
|   |   |   |   | 0937-328668 |
|   |   |   |   |   |
| Qing Chao deer farm | Lu Chu, Kaohsiung County | 233, Daren Road, Jia Nan village | Wang Qing xian | (07) 6964-764 |
|   |   |   |   | 0933-593964 |