Jin Wang Dairy Breeding Farm
Fubao Village, Changhua County, is a wetland bordering to the coast, nurtured the growth and reproduction of many marine organisms and birds, formed a precious natural environment and ecology, but because of the salty winds, it is extremely hot in summer, and freezing cold in winter. To cultivate vegetables and rice is not easy, harvests are poor, the livelhood of the residents here is quite difficult to operate. In 1973, the COA - Commission on Rural Reconstruction planed to establish the dairy farmers, and provided professional counsel to dairy farmers to develop dairy career, and tried to overcome the land salinity and grass planting adapted well to the hot weather, to produce high quality milk for providing both people's health and the residents' work opportunity. This time, under the leadership of DHI instructor - Mr. Chen Run Rong's assistance, I conducted an exclusive interview that is to overcome the barren environment, and the successful operation experience of the cattle dairy farmers - Wang, Bai Lian.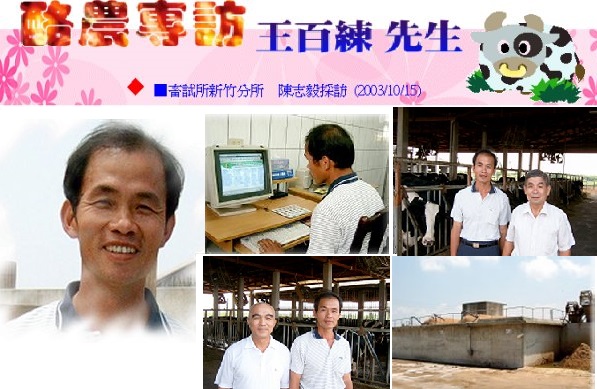 There are 102 lactating cows in Wang, Bai Lian farms, for the rest 103 cows are including the pregnant female cattle, dry dairy cows and calves, in a total amount of 205 dairy cows. The average lactation per day is about 25.4 kg, daily milk yield is 2.5 tonnes, winter and summer milk proportional control is between 30.7 : 69.3, totally meet manufacturers' demand. In Mr. Wang's farm, I observed pangolagrass planting is about 6 hectares, with imports of hay, clean drinking water to provide cattle, at the same time, he also pays attention to the fine materials, minerals, vitamin supplement, plus a good feeding and management, to complete prevention of disease control, cattle showed a healthy and vibrant situation, the quality of the milk production is natural and rich.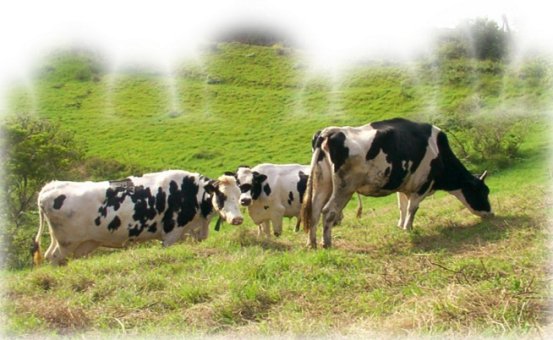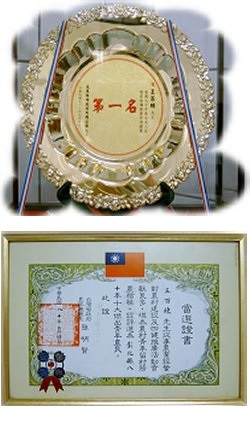 To enhance the efficiency of the reproduction of cattle, to ensure high-quality dairy group, Mr. Wang made some efforts which were including : installation of intermittent watering and hair equipment, to create a barn cool environment, to take cattle's hooves in certain time, to take care of cattle's legs, to proceed one step milking facilities and attention to milking hygiene, to maintain raw milk distribution and freshness, the introduction of high-quality frozen semen and bovine embryos relocated reproductive technology, accelerate the overall improvement of herd of cattle, with the DHI test report, to provide cattle herd management strategies by a dietician and veterinarian, to track out the weakness cattle , to set the three-stage wastewater treatment approved by Changhua County Government license in order to create environmentally clean barn.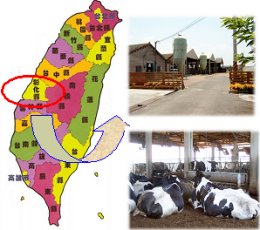 According to DHI "reproductive efficiency of the winter and spring in 2002", the list of information on a number of reproductive performance shows : "the rank charts of mother cattle breeding age" listed according to blood relatioship, farm number " K1938 " , " 3K2945 " cattle are listed in third and 20th place in DHI, respectively for 11.8 and 9.8 years, with outstanding performance ; according to the rank chart of " cattle's average maternity age in winter and spring" ranked by dairy farmers, Mr. Wang's farm won the 18th place with an average delivery of 5.2 years old results ; according to the chart of " the average age of mating age in winter and spring", 20 cattles of mating, breeding percentage is 66.7 to obtain the ranking of 35th place in DHI, the results are quite remarkable. In addition, in 1991, Mr. Wang won the Top Ten Outstanding Young Farmer Award in Changhua County, than in 2001, he also won the first place in Republic of optical Springs North satellite ranch management contest, and in 2002, he won the Four Plum Blossom Award in dairy pasture evaluation, Mr. Wang's performance of farm management is well recognized, the glory was embraced with the intentions of the operators.

Owing to Mr. Wang's ranch is a fine type, size is not particularly large, for proceeding the operation and development of dairy farmers career, and for reducing the impact of the WTO, also the impact from the consumer market space and the surplus milk in winter time, Mr. Wang discussed with sub-director- Wu Mingzhe, Chang Hulee of the Livestock Research Institute, Hsinchu Branch with dairy genetics and breeding experts, to ask for transfering the pasture management style of raw milk as the main source of income "production Ranch " into raw milk and breeding cattle selling business as "cattle farm". During this period, the authorized veterinarian hired by the ranch Mr. Zhang Shizhang can be described as the biggest player in the successful transformation, because the transformation process must be set up with the "cattle farm" regulations, set up the laboratory, data processing rooms, isolation field, independent sales bearing area and exit signs and other facilities, also need to change the original farm registration certificate, the applicant configuration diagram of farm registration Common book attached farm location map, livestock facilities and cumbersome administrative procedures, but under Dr. Chang's enthusiasm and hard trying, the quick and efficient performance pushed the establishment of Mr. Wang's cattle farm as an important position in Taiwan.


Mr. Wang totally understands that his cattle farm needs to make more efforts to operate after transformation, therefore, expect to focus on the improvement of milk, he also emphasised the improvement of dairy cow body size, because both dairy cattle's body size and utilize life years, related closely to the management traits, especially in the dairy cattle auction, higher cattle sale price comes with good body size and high milk genetic. On the other hand, he is also aggressive on breeding Holstein cattle with the characteristic of "the resistance to heat", to reach the goal of one fetus per year, for future exporting to Southeast Asia countries to create a source of income.

Wang, Bai Lian is an honest and unadorned dairy farmer, except to his success on cattle breeding, his public-spirited, good deeds of filial piety had already beed a beautiful story in his hometown. He explained to me, every industry has its own professional specialized field, in fact, operating the ranch needs to rely on a lot of expertise, such as the success of applying cattle farm, he appreciated the enthusiastic help of veterinarian Zhangshi Chang, and the other veterinarian Lu Guohone dedicated to take care of his cattle with his professional knowledge. In addition, Teacher Huang Chiyen came often to teach him and cared about his cattle, meanwhile provided the feeding management measures, vegetative propagation techniques, so that he got lot of benefits from teacher Huang. DHI instructor Mr. Chen Runrong counseled samples, made detail information, he became an important index of cattle breeding management. These great work partners, or professional leaders, are all becoming his power source for cattle, with thanks, Mr. Wang wants to express his most sincere respect to all of them,


Home