Yu Cyun Dairy Breeding Farm
In the past thirty years, Mr. Yen never neglected to promote the dairy industry, he is the executive director ( right ) of the Republic of China Dairy Development Association.

Because of the simple mind and adhere, Mr. Yen started his cattle dairy industry with 6 cattle since 1973, worked 365 days a year-round, with a simple and stable heart to work and keep on going, nearly thirty years, Mr. Yen established a deep foundation in their own dairy career. Yu Chun Ranch currently has 168 dairy cows ( 71 lactating cows, 20 dry dairy cows, the rest are heifers and calves ), they have 2 traction machine, one TMR, composting homes, six hectares of Pangolagrass, Mr. Yen and his wife work together in this ranch, also including daughter-in-law, plus one employee, total 5 workers. Therefore, their life is rich without worry.


When I arrived in the Yu Chun Ranch, first time I met Mr. Yen Yi Cheng couples, and felt they are so kind, just like the neighbor's elders, greeting me with cheerful pleasant, they have close interaction with other dairy farmers, I can fully feel their sincere concern for people. Mr. Yen recalled the 1970s, Fubao area was windy, less than a kilometer from the coast, the sea wind caused two rice crop's failure, the residents' living was in poverty, when the Magistrate visited Japan and came back to Taiwan, they began promoting the cattle industry, It gradually developed to today's Changhua Fu Bao dairy specialized area. Mr. Yen's Yu Chun's Ranch is just next to the water tower in the Changhua Coastal Industrial Park, close to the beach in distance of about 300 meters, Mr. Yen's address of the residence is Yan Fu Bao Village, Changhua County, Shin Shen Road #45 - 1, phone ( 04 ) 7783295, mobile 0933-075034. He is currently also a member of local environmental volunteer, focuses on the environmental protection and ecological.

Mr. Yen thinks breeding cattle should pay attention to nutritional balance diet, in particular, it is very helpful to increase milk production in summer time, and affected the mating success rate, Mr. Yen suggested that " the dairy farmers world magazine " to report more about the message of the nutritional aspects, he believes nutrition ample can reduce the disease. Cattle aging and hoof disease are the main reason for the Yu Chun Ranch to eliminate their dairy cattle. They emphasized the varieties improvement, use of semen supplied by Livestock, and worked with the TLRI " embryo transfer program ", used their venue yielding dairy cows for embryo cattle, so far, they have produced 6 female calves, 3 earners Bulls ( one of them came from a frozen embryo HCBS imports of high-performance ), with good variety, supply of good quality forage, plus with good feeding management, with TMR feeding, their milk field average has remained at top 3 in Changhua County dairy farms, even won the 1st price in October, 2000, Last October, the number of lactation cows are 68, the average of milk yield is 6,702 kg, 251 kg of fat content, somatic cell count is 148,000 / ml. Cattle breeding work is all year round without rest, in order to continue this business, to proceed improving milk quality and reducing production costs are the best ways.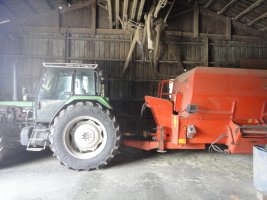 Mr. Yen hopes that the government's agricultural authorities could try their best to strengthen support for dairy farmers and dairy plants interact. Mr. Yen never regretted for investing in the dairy career in the past three decades, and he also hopes that the next generations can take over this business, so that the dairy industry is becoming a sustainable management to dedicate on improving milk quality and to take care consumer's health.


Home