Hua Ren Dairy Breeding Farm
Located on the west side of Changhua County's Fubao dairy farm district, the endless ocean lies outside the embankment. On the inner side, wasted fish ponds, sunken marshes, salt corroded farmlands scattered across the view. The ecological environment here is strongly affected by the local climate. How many came to conquer, yet was left defeated in despair, how many had to turn away and find another trade elsewhere. In the year 1983, Mr. Huang Tumu (founder of Hua Ren farm) purchased eight Holstein cattle and started raising dairy cattle on his salt corroded farmland near the embankment, Mr. Huang believed that a bit of sand and wind impels a person's ambition, and the ocean opens up a person's mind. With an optimistic attitude, he accompanied his cattle night and day. Though stumbled and fell, he gave out but never gave in. By taking one step at a time, he overcame obstacles, and eventually laid down the foundations of the cattle business.


Six years later, his eldest son, Mr. Huang De Ren ( Hua Ren present farm owner ) took over his father's cattle career, and took the business around. Mr. Huang De Ren spent a lot of effort observing and comparing cattle farms around the country. After careful consideration, he finally decided to shake off the old business model, and introduce modern equipments to remake Hua Ren Farm.(Fig.1).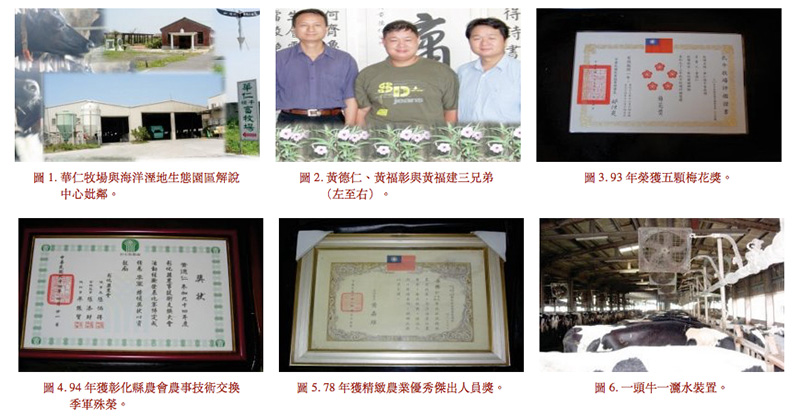 In recent years, his second younger brother, Mr. Huang Fujian and third younger brother, Mr. Huang Fuzhang (Fig.2)became old enough to join the management team. Hua Ren Farm became even more powerful and successful. Last year, they won the five Plum Blossom Award in the pasture evaluation (Fig.3)), and this year, though was their first time, participated in the Changhua County Farmers appraisal exchange evaluation, and won thrid place (Fig.4). It's like the old proverb " three person is like the tiger ". Hua Ren Farm had become the largest number stock cattle farm in Fubao dairy farm district.

Regarding Hua Ren Ranch's birth and growth, the farm owner, Mr. Huang De Ren played a key role in leading the farm. When his father, Mr. Huang Tumu established the ranch, he had chosen his son to be its heir, so he used his son's name, " De Ren " when registering and applying for the ranch. This implicated that Mr. Hunag De Ren's future was set. Mr. Huang obeyed and followed his strict father's arrangements to take over the ranch. In 1987, Mr. Huang finished his army service ( 23 years old ). At that time, his family's farm was still small, so he selected a private industry nearby to work, that way he could help out on the ranch when he had time, and also earn an additional income to support his family. In 1989, his elderly father felt he was coming up on his ages, so he quit his day job and devoted himself entirely to the cattle business. He began renovating the layouts of the old cow sheds by eliminating outdated facilities and selecting an appropriate business model. He abandoned artificially milking in a bucket, and introduced the new fish-bone milking equipment. After his reconstruction, the originally messy barn turned into a room teeming with vitality. With the improvement of the working environment, the operating efficiency skyrocketed, and was selected Outstanding Quality Agriculture Staff by the Changhua County Government. (Fig.5).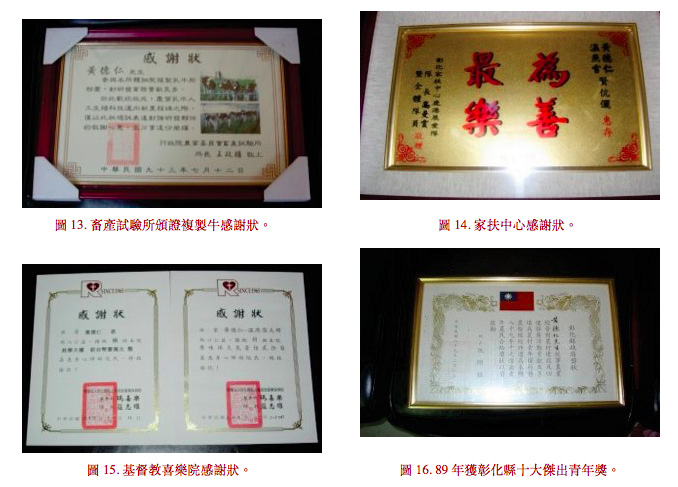 To tell the truth, Mr. Huang did not have any contact with either management, nor cattle raising during his school years. Like the old proverb "an ugly horse still has its merits" Though lacking in knowledge, he has a heart to learn, and is willing to endure hardship. He grasped the opportunity in meeting veterinarian Guo Hong Lu while he first took over the ranch business. Veterinarian Lu was really moved by his endure hardship personality and diligent spirit, he came to the barn every night to guide Mr. Huang in veterinary knowledge and skills to breed cattle, and returned home at late night. During the day time, Mr. Huang did his ranch work with the knowledge he learned from Teacher Lu, and wrote down the questions he found, than later consult Mr. Lu at night time, through Mr. Lu's commentary analysis, Mr. Huang recorded everything into a book as a daily improvement to follow, day in and day out. Mr. Huang's technique in breeding cattle got better day by day, operational efficiency increased dramatically, the number of cattle on the farm doubled. Mr. Huang says : "eveytime the farm has an outstanding performance, it reminds me of the time when I learned from veterinarian Lu, the memory fills my heart with gratitude. "


Owing to sucessful operation, the numbers of cows grew rapidly , the original facilities could not catch up the pasture's growth rate, again, he faced the bottlenecks in the business, the operational effectiveness went down. In 1995, Mr. Huang did something amazing, he expanded the pasture area and constructed additional cattle homes, and set up the sprinklers, so that each cow can enjoy the shower facilities alone (Fig.6), providing a cattle more comfortable environment, meanwhile, he replaced the full range of GM brands of tandem milking facilities (Fig.7), he also completed the cattle identify logging operation, every cows wear the uniform computer sensor chip (Fig.8), so that the computer can check every cow through the identification gate, the new milking facilities can automatically complete the nipple disinfection, cup off milk and milk production shipping operations, without back-plagued squeeze milk, and staff can control the panel to enter the cattle performance status while in the milking process at same time (Fig.9). Cattle wears the the reader just like a pass, also worked with the automatic feeding system of multiple management, production system is already formed, leading the trend, their production system will be a model for government to promote in the future.


Mr. Huang said that although their cows numbers are the top one in the Fubao region, seaside climate is humid and changeable, the calf's survival rate is lower than other pasture, he spent a lot of effort to modify calf place these two years, cattle-bed elevated with automatic air-conditioning unit (Fig.10), adjusted the best air conditoner degree according to the weather, the improved result was good, the survival rate of calves went satisfied. Such embellishment in Hua Ren Farm is often to see, fully reveal owner's attentive, more important is Mr. Huang had a firm grip on the business pace as racers, this enlarge view and plan made his ranch full of opportunity, it is the reason for Hua Ren Fram growing so rapid. Mr. Huang revealed that Hua Ren Farm's second farm is under construction now, the equipment and area of new farm are absolutely comparable to the original one. In recent years, the number of cattle farmers disappeared, not such people has the same confident with determined mind as Mr. Huang, Perhaps it is the different part from heros. Hopefully, Hua Ren's one small step, can inspire Taiwan dairy agriculture's big step.


The farm owner Mr. Huang is now 41 years old, his personality is honest and upright, just like his calligraphy, his stroke of character is neither haughty nor servile, clear and neat (Fig.11). He was born and grew up in the countryside, so he always had a special bond to his hometown, and always participated vigorously in local development (Fig.12). He donated money without hesitation, and even volunteered to teach calligraphy in Yu Shin Elementary school. Once he found out the shortage of school funding, he donated money to solve the shortage problem without hesitation. Five years ago, the Changhua County Government established a marine wetland ecological park near to their farm area, they used the drift driftwood to build waterfowl habitat, set up an interpretation center to explain the bird-watching activities and intertidal biodiversity. Though the government strongly advocated tourism, there was the problem of lacking in toilet facilities, Mr. Huang built two additional restrooms in his own house, and made signs to guide visitors for free use, this thoughtful deed touched the hearts of tourists. In addition, he cooperated with agricultural policies, and made effort to participate in all kinds of industry development plans (Fig.13), such as sponsoring the Family Support Center (Fig.14), donating to orphanages (Fig.15), adopting charitable organizations.


While it is very hard engaging in dairy farming, farm owners are still very charitable, and attaches great importance to corporate in social responsibility .Therefore,it was well deserved for him to be awarded the Top Ten Outstanding Young Persons Award in Changhua County.(Fig.16)


Home