Cryopreservation Facilities/Storage Banks
in
Taiwan Animal Germplasm Center
1. Hardware equipment
Taylor-Wharton 38K CryoStorage Systems With KRYOS Controllers
17 sets 38K CryoStorage Systems(diameter 90cm * high 70 cm),
1 set 24K CryoStorage System(diameter 70cm * high 70 cm)
Taylor-Wharton 38K CryoStorage System With KRYOS Controller
Different racks for Vial or straw storages
1-2ml Vial ---- 12 sets(Including a 24K system)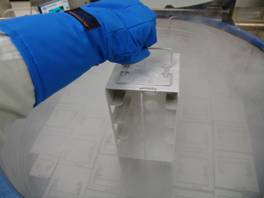 0.25/0.5ml straw----- 5 sets (2 sets / 3 sets)
5ml straw ------------- 1 set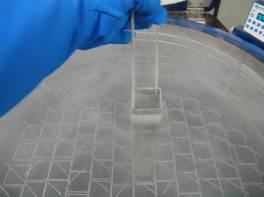 | | |
| --- | --- |
| | |
| Storage Cup, Straws and Vial Boxes | Different Racks |
| | |
Kryos Controller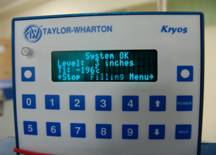 1. Easy-To-Use Interface: Uncomplicated, user-friendly interface guides you through very intuitive menu options.
2. Up to 4000 temperature history records.
3. Temperature Control
4. liquid level set to 3- 6 inches.
5. Freeze Guard Protection: Protects against overfills through two advanced control features.
6. Auto Defog: Minimizes the time specimens are exosed to elevated temperatures and promotes a safer working environment by rapidly eliminating the fog that eevelops when the lid is opened.
7. Quick Chill: Protects specimens by rapidly eliminating ambient heat that is introduced wien the lid to the system is closed.
8. On Screen Diagnostics: Temperature sensors & valves execute a continuous self-diagnostic check. If a failure is detected, the user is alerted through visual & audible alarms, and the failure is identified and explained on display.
.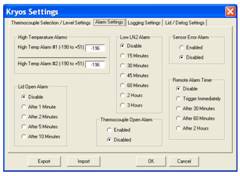 Remote Control system
1. Remote computer Monitoring system, All cryoStorage system controller connect to a central monitoring computer.
A. Computer may display liquid-depth, temperature and operating status of each cryostorage system synchronizely.
B. Data of liquid-depth, temperature and operating status can be downloaded from computer.
C. Computer can manipulate the cryostorage system,
For example, Mute(static sound), liquid nitrogen filling, liquid-depth of cryostorage, temperature, alarm setting and defogging time limit and so on.
2. Synchronized audible alarm system, the central monitoring room is equipped with synchronized alarm box, connected to all 24K and 38K Cryostorages, which is an auto-dial alarm system.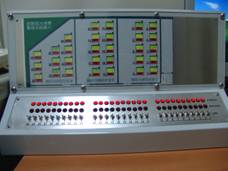 3. Room I,II and IV have oxygen density sensors which are connected to oxygen alarms.
If the oxygen density is lower than 19 %, will send out the first warning,
If the oxygen density is lower than 17 %, will send out the second warning, The Sensor breakdown also will send out second warning.
4. If the oxygen density is too low, ventilation system will start automatically.
| | |
| --- | --- |
| | |
| 20T Liquid Nitrogen Tank | Hybrid Cryogenic Refrigerator |
| | |
| | |
| Preservation Room | 38K Cryostorage |
| | |
| | |
| Web server of Taiwan Animal Germplasm Center | Deposition Management, Exchange and Utilization of Genetic Material |