Pure Breed Registration of Swine in Taiwan
Yung - Yi Sung
Department of Animal Science National Taiwan University
The pure breed swine registry system is establised in 1975. ht the same time the Central Testing Station ( GTS ) is opened for performance testing of boars in Taiwan Hereby elite herd evaluation and national nuclear herds scheme are proceed by steps and stages to form the four parts of swine improvement in Taiwan (Chyr, 1987). Pure breed swine registration in Taiwan is not only performing to keep the pure strain type but for record its lifetime levels of production as it is closly associated with breeding. In 1983, the registration system has been tremendous change as it is involve in machinery by computer. Other hand, pedigrees of stock list, collection stocks data in who or whos' herds codifying its performance records and search for family selection to advanced registration and award are all computerized to do it at once.
The flow chart of proaedure and its brief is shown in Fig.1. The mating data is input, checking their farrowing record and pedigree than output the registration diploma are all computerized. The number of registration pigs and of herds changed in decade and registration of each breed numbers are shown in Fig.2 and Fig.3 respectively.
Reproductive Performance Registration
The perforoanoe testing is the most important for providing aoourarte information in practiae. To encou- ragement eaoh herd to take over the littering ability teat on farm, the repreduetive performanae registry is put in practioe.
l. Sow: be passed the test of littering ability. Its litter size are over 10 head in uncolor breeds and 8 head in color breads, and pigling survival rate at 3 weeks of age are net less than 80%. The litter weight and its variation at 3 weeks of age are Judged.
2. Boar: on boars 5 progeny from 3 different sows have possessed reproductive performance registration will acquire the boar's reproductive performance registration.
Neat Productive Performance Registration
There are boar's CTS of Pig Research Institute in chunan ~ Progeny Testing Station (PTS) of Provinoial Livestock Research Institute in Shinhua and also encourage of on farm testing to take over the performance testing for meat productivity registration since the CTS and PTS can provide a uniform environment for growing and it is possible to improvement estimation of its genotype (Sung et al., 1990). So only the results of CTS and PTS are registried by Counoil of Registration, Swine Improvement Foundation of Taiwan. The reproductive performance registration and meat productive performance registration are twin star regulation of pig registration.
1. Mew boar, which passed the CTS or PTS individual testing (direct), or 3 progeny of sow/boar each breed from 3 different boars/sows are passed CTS or PTS testing, which sow/boar can acquire meat productive performance registration (progeny test, indirect).
Super Reproductive Performance Registration
i. e. Silver Medal Pig
There are two categories to estimate the genotype of the reproductive performance on sows either the productive ability is proven by its progeny or can produce more pigling in a short peroid. The sow which passed the teat of littering ability seguential over 3 times within 15 months or 5 progeny breed from different 3 boars are possesed the reproductive performance registration, and on boar, over 20 offspring from 5 different sows are possesed reproductive performance registration which also wi1l award the super reproductive performance registry i. e. silver medal pig. The number of silver meda1 pigs registried in decade are in Table 1.
Super Meat Productive Performance Registration
i. e. Golden Modal Pig
There are a lot of herds possession the super meat productive performance registration i. e. golden medal pigs, mean that the boar or/and sow acguire both reproduction and meat productive performance registrations and. while it have been proven by progeny are award the golden medal pig price. The accumulation of super meat productive performance registry pigs number and it owner herds number are shown in Table 2.
Mei - hua Prize Accompanied with Golden Medal Pig
In 1985, the Mei-hua prize is lst award accompanied with golden medal pigs which its all grand - parents and both parents are registered in Taiwan herdbook. This honor prize is award to encourage the elite breeder who breed golden medal pig on self - absorption and make a contribution to splay their good gene all around in Taiwan. The number of Mei - hua prize pigs and its owner's herd numbers are in Table 3. It shows that the numbers of prize pigs are increase year by year and a new prize "Twin Mei - hua" is establised in 199l to encourage that which grand - grand parents of Mei - hua pig are all registered in Taiwan herdbook.
Reference
Chyr Shuang - Ching, 1987. Pig Production in Asia 2. Breeding Pigs for Asian Conditions. ASPAC FFTG Extension Bulletin 259:22-33.
Sung, Yung-Yi, C. S. Chi, H. L Chang and S. G. Wu, 1990. Evaluation of Progeny Testing versus Individual Testing Efficiency on selection Index of Swine Performance Registration in Taiwan. Pro. 4th World Congr. on Genetics Appl. to Livestock Producrt., XV: 501- 503. Edinburgh, 23-27 July, 1990.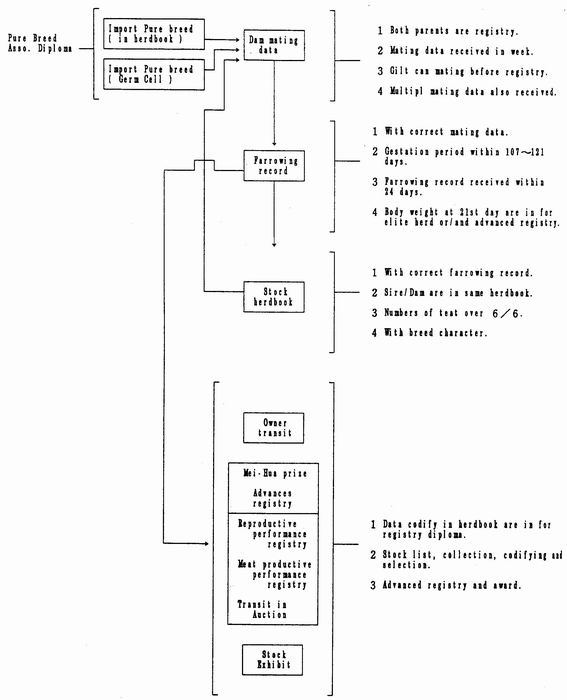 Fig 1. Flow chart of Pig Registration in Taiwan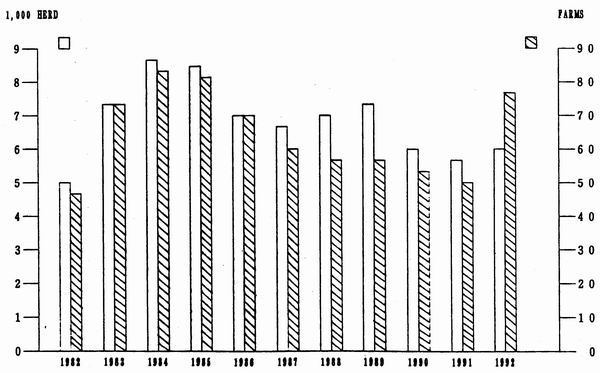 Fig 2. PIGS REGISTRIED AND REGISTRATION FARMS IN RECENT TEN YEARS
Fig 3. NUMBER OF BREEDS REGISTER IN DECADE
¡@
Table 1. THE SUPER REPRODUCTIVE PERFORMANCE REGISTRY i. e. SILVER MEDAL PIGS AND HERDS
| | | | | | | |
| --- | --- | --- | --- | --- | --- | --- |
| YEAR | LANDRACE | YORKSHIRE | DUROC | HAMPSHIRE | TOTAL | HERD |
| 1985 | 127 | 56 | 74 | | 257 | 22 |
| 1986 | 163 | 75 | 131 | | 369 | 28 |
| 1987 | 143 | 31 | 74 | | 248 | 23 |
| 1988 | 161 | 34 | 83 | | 278 | 21 |
| 1989 | 146 | 29 | 55 | | 230 | 28 |
| 1990 | 252 | 69 | 121 | | 442 | 24 |
| 1991 | 197 | 52 | 119 | | 368 | 20 |
Table 2. THE SUPBR MEAT PRODUCTIVE PERFORMANCE REGISTRY i. e. GOLDEN MEDAL PIGS AND HERDS
| | | | | | | |
| --- | --- | --- | --- | --- | --- | --- |
| | LANDRACE | YORKSHIRE | DUROC | HAMPSHIRE | TOTAL | HERD |
| 1985 | 4 | 8 | 8 | | 20 | 8 |
| 1986 | 16 | 15 | 25 | | 56 | 22 |
| 1987 | 13 | 9 | 18 | | 40 | 11 |
| 1988 | 14 | 4 | 13 | | 31 | 13 |
| 1989 | 6 | 3 | 5 | | 14 | 6 |
| 1990 | 39 | 6 | 24 | | 69 | 17 |
| 1991 | 13 | 4 | 21 | | 38 | 15 |
Table 3. THE NUMBBR OP MEI HUA PRIZE PIGS AND HERDS
| | | | | | | |
| --- | --- | --- | --- | --- | --- | --- |
| YEAR | LANDRACE | YORKSHIRE | DUROC | HAMPSHIRE | TOTAL | HERD |
| 1985 | 1 | 1 | 3 | | 5 | 2 |
| 1986 | | 1 | 5 | | 6 | 3 |
| 1987 | 5 | 2 | 3 | | 10 | 3 |
| 1988 | 3 | 1 | 5 | | 9 | 6 |
| 1989 | 2 | 1 | 3 | | 6 | 5 |
| 1990 | 13 | 1 | 13 | | 27 | 9 |
| 1991 | 1 | | 18 | | 19 | 7 |