Pig Breeding in Finland
Jaakko Jauhiainen
The Finnish Animal Breeding Association,
P. O. Sax 40, 01301 Vantaa, Finland.
Abstract
There are about 1.2 million pigs in Finland. Half of purebred saws are Finnish Landrace and other half Yorkshire. Of the total number of saws - amounting to some 120,000 - 25% are crossbred between these two breeds.
Finland has unified pig breeding programme. The selection objectives for both breeds are identical. The principal objective in pig breeding is total economic value. This includes improving fertility, the daily gain and feed conversion, improving carcass quality by decreasing fat - percent and increasing the lean meat percent and improving the meat quality. The Finnish Animal Breeding Association is responsible for carrying out the pig breeding programme with close co-operation with slaughter houses and other interest groups.
There are various pig testing methods in Finland. On-farm testing is used as a selection method in all sow herds. A selection index is calculated on the basis of growth rate and the-thickness of backfat. The on - farm test also includes assessment of general conformation, legs-and teats.
More than 40% of the cows in Finland are bred artificially with good results. In Specialized pig breeding farms the percentage of A.l. is over 70%. All A.I. boars some 300 animal at a time - are reared and tested at two phentype testing stations. The combined index is based on the boars individual results as well as its sibsíŽ results. The top third of boars tested are accepted for A.I. use.
Progeny testing plays the most important role in selection of breeding pigs in Finland. Annually some 1,200 groups - each consisting 4 piglets - are tested in seven testing stations. Testing period in progeny test is at the moment from 25kg to 100kg, after that test animals are slaughtered and carcasses dissected. The progeny teat index includes following characteristics: feed conversion, daily gain, fat percent in back and loin, lean meat percent and meat quality. In addition attention is focused on carcass length, backfiat thickness, eye muscle area, lean meat in ham and confer -mation.
Litter recording is carried out on over 1,000 farms to assist farmers in the selection of their animals The date is also used to calculate fertility index. by BLUP - method in order to maintain the high level of fertility of Finnish pig breeds.
Halothane testing was incorporated into the Finnish pig breeding in 1978. Blood factors has been used as marker ganes in addition to halotane anesthesia. As a result of intensive selection against halothane gene Finnish Yorkshire is totally free from halothane gene and in Finnish Landrace only in few lines can be found carriers of halothane gene. The halothane status of Finnish pig population has been confirmed lately in research in which animals were tested by DNA - test.
PIG BREEDING IN FINLAND
PROGENY AND SIB TESTING AT
SEVEN TESTING STATIONS

íV feed convers./daily gain
íV carcass quality
íV meat quality

HERDBOOK REGULATIONS

íV for purebred Y- and L-boars and sows
íV fertility
íV conformation
LITTER RECORDING

íV fertility index with BLUP

BREEDINGíV VALUE

HALOTHANE GENE ERADICATIOM

-DNA- + Bloodtest
PHENOTYPE TESTING FOR
A. I. BOARS

íV feed convers./ daily gain
íV carcass quality
íV meat quality
íV conformation

ON FARM TESTING FOR YOUNG
BOARS AND QILTS

íV registration
íV feed convers./daily gain
íV carcass quality
íV conformation
í@
íV TOTAL NUMBER OF PIGS 1,2 MILLIONS

íV TOTAL NUMBER OF SC0fS 120 000, EQUAL NUNBER OF PUREBRED FINNISH YORKSHIRE AND LANDRACE SONS, ABOUT 25 % OF SOWS ARE ROSSBREDS

íV TOTAL NUMBER OF BOARS ABOUT 5000, ALL ARE PUREBRED

íV ABOUT 150 ACTIVE BREEDING FARNS

íV THE AVERAGE MUNSER OF SONS IN BREEDIRG FARMS IS 30

íV ABOUT 2250 PUREBRED SOWS IN BOTH BREEDS UNDER ACTIVE BREEDING
PROGENY TESTING AT THE STATIONS
íV 7 DIFFERENT STATIONS, ABOUT 1200 GROUPS TESTED EVERY YEAR

íV 4 ANIMALS IN EACH GROUP (2 FEMALES + 2 CASTRATES)

íV TEST PERIOD 25 íV 100 KG

íV RESTRICTED FEEDING (ALMOST AD LIBITUM LEVEL) IN GROUPS ACCORDING TO WEIGHT OF ANIMALS, SANE FEED AND FEEDING PATTERN IM ALL STATIONS

íV IN 100 KG LIVE WEIGHT PIGS ARE SLAUGHTERED AND CARCASSES DISSECTED FOR ESTIMATION OF FAT AND LEAN MEAT CONTENT

íV THE RESULT, K-INDEX CAN BE DIVIDED IM THREE SUB-INDEXES

A) PRODUCTION TRAITS INDEX: 1. DAILY GAIN
2. FEED CONVERSION

íV the result of each group is compared to the groups grown at the same time at the same station

B) CARCASS QUALITY TRAITS INDEX: 3. % OF HIGH CUTS (= MEAT-%)
4. FAT-% IN BACK AND LOIN

íV individual results are compared to the rolling average of all Landrace and Yorkshire groups (same groups as in production traits)

C) MEAT QUALITY INDEX: 5. PH-VALUE
6. MEAT COLOR

íV individual results are compared to the average values in the same day at the same slaughterhouse

íV THE NATIONAL AVERAGE OF K-INDEX IS + 4,0. TEE BEST SONS CAN GET K-INDEX OVER + 20. THE K-INDEX OF BOARS IS CALCULATED USING WEIGHING FACTOR ACCORDING THE NUMBER OF PROGENY GROUPS TESTED. THE BEST BOARS ARE GETTING K- INDEX MORE THAN + 30.

íV K-INDEX + 4, 0 OR MORE IS REQUIRED FOR AN ANIMAL TO ENTER INTO ELITE CLASS IN HERDBOOK

íV BOARS FOR BREEDING PURPOSES ARE ACCEPTED ONLY FROM PARENTS WHICH BOTH ARE ACCEPTED INTO THE ELITE CLASS. USUALLY BOTH PARENTS HAVE K INDEX OVER + 10.
í@
PROGENYTEST RESULTS 1970-9
í@
PROGENYTEST RESULTS 1970-92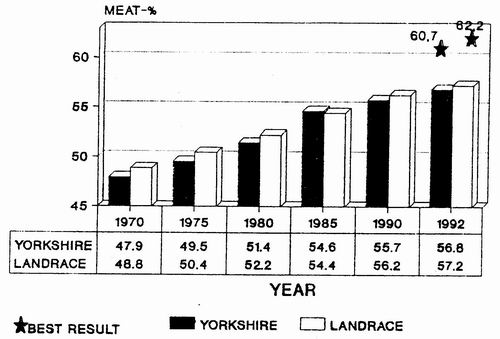 RESULTS FROM DISSECTED CARCASSES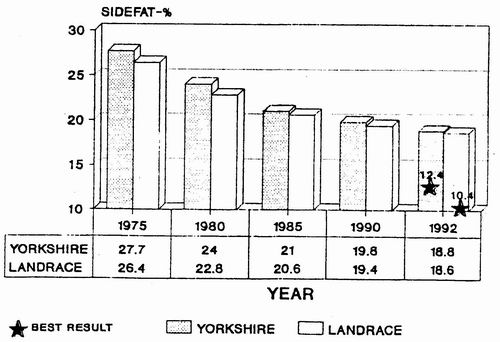 í@
PROGENYTEST RESULTS 1970-92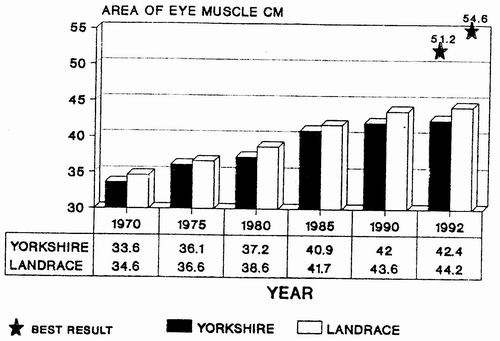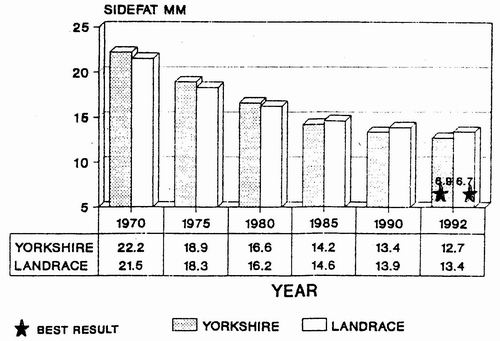 ON FARM TESTING
In Finland all young boars (4500 yearly) and most of young gilts (60 000 yearly) are tested on farms. The testing routine is carried out by the breeding advisers of The Finnish Animal Breeding AssociationíVFABA and by some slaughterhouse personnel.

The animals are tested when their weight is between 90 and 110 kg and age is recorded. Backfat is measured ultrasonically from both sides at the last rib and in the midback, thinnest point (about 8 cm anterior). Mean of these three measurements is used to calculate so called fat scores. All animals in the same litter are usually measured in the same day. So, the actual growth differences are weight differences between litter mates. Scores from growth and fat are summed and this sum is the final T-INDEX. Separate equations are used for boars and gilts. Nowadays index is calculated in the central computer to which the technicians (or their terminals) are on line connected by phone.

The main idea in adjustment is first to standardize the increasing variance in live weights and fat when animals are getting older. Secondly standardized differences of growth and fat are weighted so that phenotypic, genetic and economical factors are considered. Every year parameters are changed so that the mean of T-index remains always close to 106. There is a national culling level of 100, but generally T-index is advised to be used only for within farm comparisons. Standard deviation of the T-index is about 5. A guide for parameters in 'standard fat and weight' were taken from the field experiment in 1991.

In addition to the calculation of T-index also legs, teats, hams and general conformation of young boars and gilts are judged the same day. For accepting in on-farm test both the gilts and boars must have at least 7 + 7 teats. Animals with inverted teats are culled. All accepted animals must have good legs and moving ability. All defects in legs are recorded using code system. On farm test results are used in domestic market of breeding pigs.
ON-FARM TEST 1981-92
AGE IN 100 KG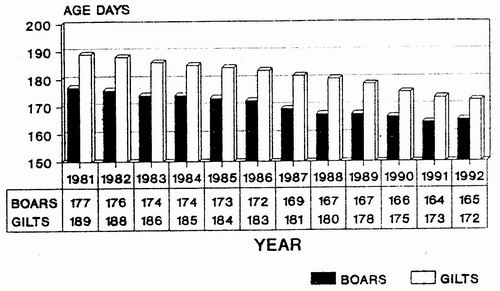 BACK + SIDEFAT AVERAGE IN 100 KG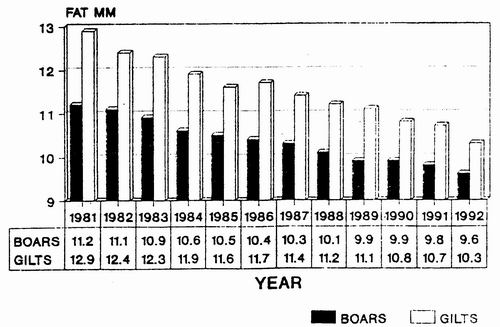 í@
PERFORMANCE TEST FOR A . I . BOARS
íV 40 % OF FINNISH SOWS ARE INSEMINATED

íV HEAVY PRE-SELECTION, ONLY PROGENY FROM BEST SONS AND BOARS ARE ACCEPTED TO THE TESTING STATIONS

- TESTING AT 2 STATIONS

íV ABOUT 250 BOARS TESTED YEARLY IN BOTH BREEDS

- BEST 30% OF BOARS ACCEPTED FOR A. I.

- 1 íV 3 BOARS ARE SELECTED FROM THE SAME LITTER FOR TEST

- TEST PERIOD IS FROM 25 KG TO 100 KG LIVE WEIGHT

íV INDIVIDUAL FEEDING DURING TEST PERIOD

íV IN 100 KG LIVE WEIGHT BOARS ARE ON-FARM TESTED AND FAT MEASUREMENTS ARE TAKEN FROM 7 DIFFERENT POINTS ( 2 ON SHOULDER, 3 ON MID BACK AND 2 ON HAM)

íV THE RESULT IS ANNOUNCED AS F-INDEX

íV F-INDEX INCLUDES: 1. THE DAILY GAIN AND FEED CONVERSION OF ANIMAL ITSELF
2. FEED CONVERSION OF FULL BROTHERS
3. FEED CONVERSION OF PARENTS
4. FAT MEASUREMENTS OF ANIMAL ITSELF
5. % HIGH PRICE CUTS (= MEAT-%) OF PARENTS
6. HEAT Quality OF PARENTS

íV TEATS, LEGS AND CONFORMATION HAS IMPORTANT ROLE AS SELECTION CRITERIA TOGETHER WITH F-INDEX
PERFORMANCE TEST FOR A. I. BOARS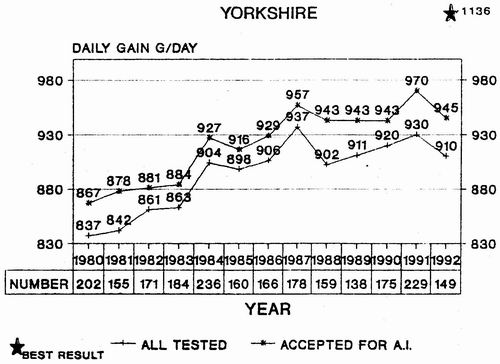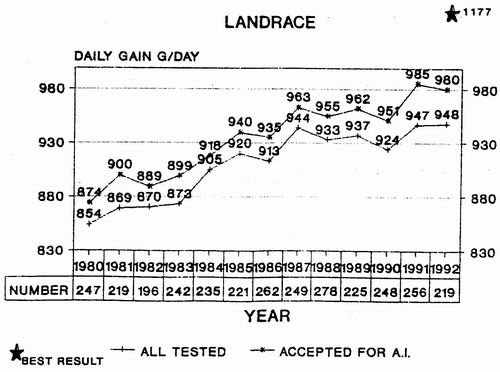 í@
PERFORMANCE TEST FOR A. I. BOARS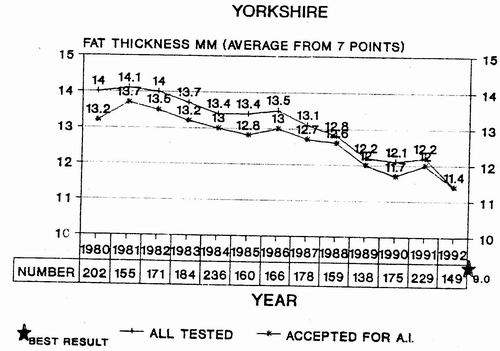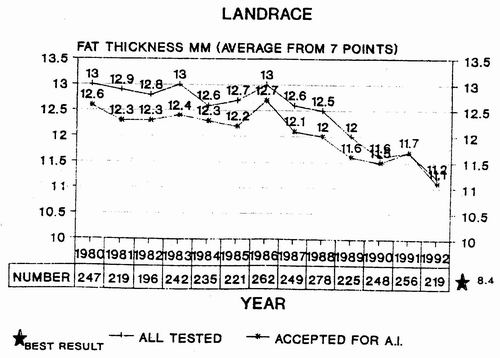 í@
PERFORMANCE TEST FOR A. I. BOARS
LITTER RECORDING
OFFICIAL RECORDING OF PIGLET PRODUCTION STARTED IN 1983

ABOUT 1200 FARMS RECORDED, COVERING 25 % OF FARMS AND 30 % OF SOWS

DATA IS RECORDED EITHER BY TECHNICIANS OR FARMERS THEMSELVES

TECHNICIANS ARE USING DATA TERMINALS WHICH ARE ON LINE CONNECTED TO THE CENTRAL COMPUTER

FARMERS CAN SEND DATA EITHER BT WRITTEN OR BY THROUGH FARM MANAGING PC-PROGRAM 'POTKA' WITH ON LINE CONNECTION TO THE CENTRAL COMPUTER

THE AVERAGE NUMBER OF SOWS IN LITTER RECORDING IS ABOUT 30, A GILT IS RECORDED AS A SOW IN 200 DAYS AGE

RESULTS FROM ON-FARM TEST AND FROM PROGENY TEST ARE CONNECTED BY CENTRAL COMPUTER TO LITTER RECORDING

TEE FOLLOWIN INFORMATION IS COLLECTED:

* DATE OF INSEMINATION AND SOAR USED
* DATE OF FARROWING
* LITTER SIZE AT BIRTH, TERRE WEEKS AGE AND MEANING
* GENETIC DEFECTS
* INFORMATICS FRQM VET. TREATMENTS
* DATE AND REASON OF CULLING

THE MAIN RESULT IS PIGLET PRODUCTION / SOW / YEAR

AVERAGE LITTERSIZE, FARROWING INTERVAL, MORTALITY OF PIGLETS AND OTHER INFORMATION CAN BE SEEN IM FARM REPORT

RESULT OF EACH EARN IS COMPARED TO THE AVERAGE OF AREA AND WHOLE COUNTRY

PRODUCTION RESULTS OF EACH INDIVIDUAL ANIMAL ARE PRINTED IN SOW AND BOAR CARDS
LITTER RECORDING 1991
PIGLET PRODUCTION/SOW/YEAR